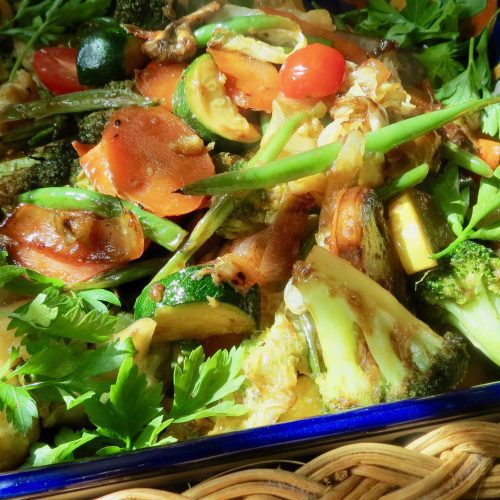 Beer Glazed Vegetables
I created this a few years back for Tap New York at Hunter Mountain
Ingredients
6

oz.

Stout or Lager Beer

¼

cup

Maple Syrup

2

Tbls

Honey

2

Tbls

Mirin

Juice of 1/2 lemon

1

Tbls

soy sauce

½

Tlbs Sriracha Chili sauce

1

Stars of Star Anise

3

Tbs

Grape Seed oil

1

Tbls

grated ginger

4

Cups

mixed vegetables

broccoli, cauliflower, green beans ,baby carrots, or whatever you have lying around , just cut the vegetables that take a little longer to cook a little smaller.

10

cherry tomatoes cut in half

Scallions or chives for Garnish
Instructions
Mix together first 8 ingredients in a sauce pot and reduce by half.Remove star anise .

Heat oil in sauté pan , cook ginger 1 minute, add your vegetables, cook over high heat covered for 3 to 4 minutes (this helps steam it a little) Now add 1/4 cup of your glaze cook over high heat uncovered stirring occasionally until all glaze is absorbed and the veggies are slightly browned, about 6 or 7 minutes.Toss the cherry tomatoes in at the end. Top with chopped ,scallions or chives. Enjoy
 PS this glaze can be used for meat or Fish.