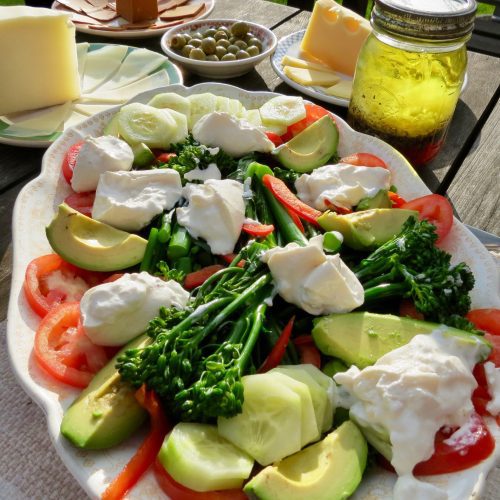 Broccolini Burrata Salad
Salads are great, Here is one of my creations
Ingredients
1

Lbs

Broccolini blanched and cut into 2 inch strips.

½

Lbs

Burrata quartered

2

small avocados peeled and quartered

½

red pepper in strips

½

seedless cucumber sliced

2

roma tomatoes sliced

classic vinaigrette

2

tsp

dijon mustard

1

small shallot finely diced

1

small clove garlic minced

¼

tsp

ground black pepper

½

tsp

sal1/2 tsp dried thyme

½

tsp

dried oregano

¼

cup

white wine vinegar

¾

cup

olive oil

¾

tsp

salt
Instructions
Start out by blanching your broccolini. Do this by plunging it into salted boiling water for just a minute our two. Test for doneness by squeezing the stem, if it crushes it's ready. Stop the cooking process by removing them to cold water. Do this in 2 batches.

Next make the vinaigrette, placing all ingredients in a mason jar or glass jar with tight fitting lid and shaking well.

To assemble the salad take a look at picture. But basically start by placing the broccolini on the center of your plate or platter and then garnishing with remaining items. Drizzle with salad dressing. Voila.