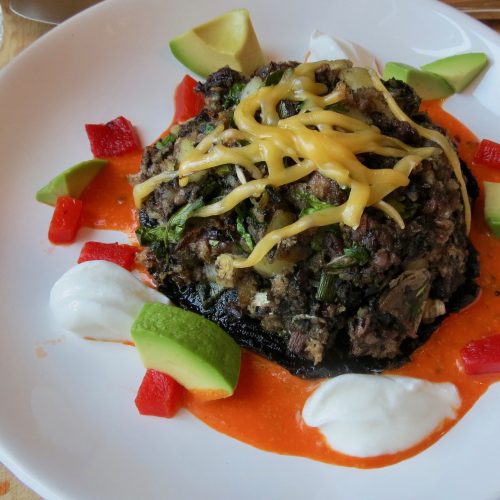 Stuffed Portobello Mushrooms W / Smoked Gouda Coulis
Ingredients
4

Portobello mushrooms

2

Tbls

olive oil

1

medium shallot diced

1

clove

garlic minced

1

cup

coarse fresh bread crumbs

1

medium Yukon gold potato cooked and diced

1/

cup

cooked brown rice or any other grain you have hanging around.

⅓

cup

Scallions chopped coarsely

⅓

cup

chopped parsley or cilantro

salt +pepper

sauce

5

oz.

roasted red peppers

¼

cup

heavy cream

1

oz.

water

3

oz.

smoked gouda cheese grated

2

tsp

whole grain dijon mustard

S + P

Garnish's

roasted red peppers diced

avocado diced

Yogurt

Maldon salt
Instructions
Mushrooms

Gently remove stem and gills from mushrooms, chop them a little. Season the mushroom caps with salt and pepper and drizzle with olive oil .Place them in a microwave safe dish , cover and microwave 2 to 3 minutes or until steaming hot and appear to be cooked. Heat a Tbls of olive oil in a small pan add shallot and garlic .Cook one minute . Add gills and stems cook 2 minutes. In a medium bowl add together the potato , rice , bread crumbs, ingredients from pan , scallions + parsley. Season with salt and pepper. Toss lightly. Create balls of this mixture and mound on top of your mushroom caps. Place the caps in an oiled baking dish and bake 20 minutes in a 375 degree oven . Top with remaining cheese and pop under broiler for a few seconds.

Coulis

In a blender puree roasted peppers , heavy cream + water , pour into a small sauce pan add 1 1/2 oz . cheese , gently heat until cheese is melted ,add mustard season w/ salt and pepper. Set aside.

To plate

Spread some of your coulis around the plate, place a mushroom cap in the center , then surround it with all your garnish's . Sprinkle a little salt on the avocado.