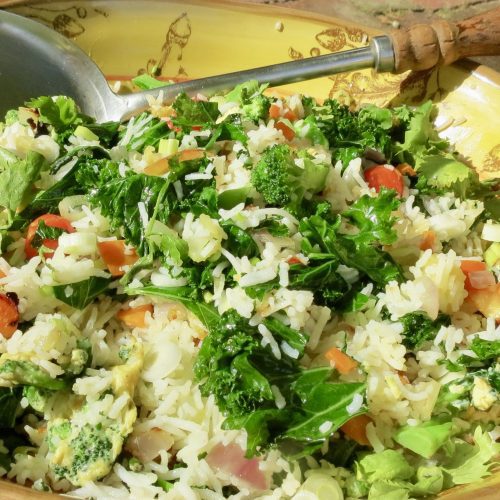 XXX Basmati Fried Rice
This is a great way to use left overs
Feel free to substitute with any other Veggies you like
Ingredients
1

cup

XXX or long grain basmati rice

xxx rice can be found in your local Indian market

1

+ 1/2 cups water

1

tsp

salt

2

tsp

vegetable oil

1

bay leaf

1

thumb ginger peeled + grated

2

garlic clove minced

½

cup

celery small dice

½

cup

carrots small dice

½

cup

onion small dice

2

egg beaten

1

cup

small broccoli florets

1

cup

cherry tomatoes

2

cups

chopped kale

3

scallions sliced

4

Tbs

vegetable oil approximately
Instructions
Read instructions in their entirety first.

Start out by cooking your rice. What you need to do and probably always should, is rinse your rice until the water runs clear. This takes away some of the starch and gives you fluffy rice. So combine your rice, water, salt, oil and bay leaf and bring to a boil . Cover turn down heat as low as possible and cook 12 minutes. Let rice rest without uncovering for 10 minutes ( another thing you should always do).

Now to put it all together. Heat your largest frying pan up, add a little oil and cook the ginger and garlic stirring until fragrant.Next add the onions, celery, and carrots and a little more oil. Cook 5 minutes. Push these ingredients to the edges of the frying pan creating a large open space in the center of pan. Add a little more oil and your rice, leaving the vegetables along the edge undisturbed. Fry your rice for a few minutes flipping over to crisp. Now push these off to the side, once again creating a well in the middle of pan. Next add broccoli florets to center of pan with a little more oil and stir around till bright green, pour your eggs over this, stir around until eggs are cooked. Finely add your tomatoes and kale, toss everything together with some salt and pepper and garnish with scallions. Whew you are done!!