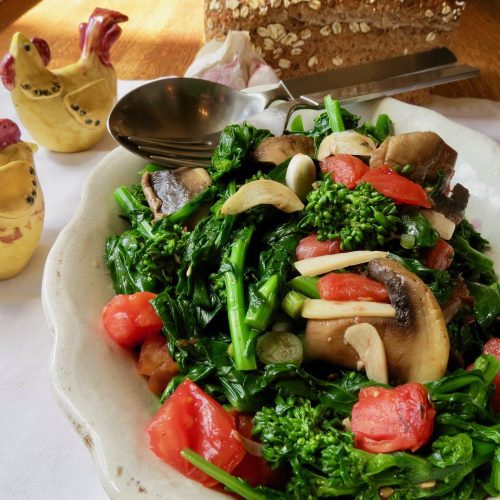 Broccoli Rabe
My Mom used to prepare this long before its popularity
Ingredients
2

bunches broccoli rabe

3

Tbls

olive oil

4

clove

garlic thinly sliced

2

cups

button mushrooms sliced

1

tomato medium dice

Salt and Pepper
Instructions
Clean the Broccoli rabe by first cutting and discarding a little off the bottom of the stems. Next cut off the top inch and a half that contains the flower portion.Place in a bowl . Now cut the stem portion in half and place in a 2nd bowl.

Bring to boil 2 quarts of salted boiling water. Dump in the first bowl of broccoli rabe. This is going to cook really fast, so fill the bowl you just used with cold water, throw in a few ice cubes and even before the water returns to a boil pull out your broccoli rabe tops and plunge into the ice water. Repeat with second bowl. Drain.

In a large sauté pan gently cook your garlic in the olive oil. Push garlic off to the side of pan after it lightly browned then add your mushrooms. Stir the mushrooms around (trying not to disturb the garlic) for 2 or 3 minutes. Add tomatoes cook 1 minute. Finally toss the broccoli rabe back in.Warm a little . Season with salt and pepper. Don't over cook !