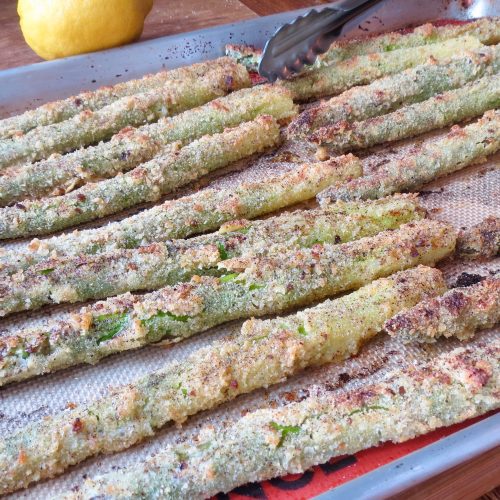 Crispy Roasted Asparagus
Ingredients
1

Lbs

large Asparagus spears

Batter

⅓

cup

corn starch

⅓

cup

all purpose flour

milk enough to make a thin batter

approximately 1/cup

½

tsp

salt

¼

tsp

Pepper

Crumbs

1

cup

Panko bread crumbs

1

cup

corn meal

½

tsp

salt

1/ 4

tsp

pepper

olive oil for drizzling on asparagus

Lemon wedges
Instructions
Cut 1/4 inch off bottom end of asparagus then peel the bottom 1/4 portion of asparagus to remove touch skin.

Preheat oven 450 degrees

In a bowl combine corn starch , flour , s+p, add milk ,creating a smooth batter that is not too thick , you may need to adjust if you don't think its thick enough to hold the crumbs. Pour the mixture into a rectangular loaf pan , at least the length of asparagus.

In a Pan similar to the one with the batter , mix together bread crumbs , corn meal , s + p .

using one hand for your wet ingredients and one hand for the dry , dip one asparagus at a time into batter and then gently dropping it into the crumbs covering it with crumbs , remove to a parchment paper lined sheet pan. Repeat the process with remaining asparagus. Now carefully drizzle olive oil over asparagus . Place in oven on top shelf for 15 minutes . Finish under broiler for a few seconds. Serve with lemon wedges or your favorite vinaigrette.